Shopping Cart
Your Cart is Empty
There was an error with PayPal
Click here to try again
Thank you for your business!
You should be receiving an order confirmation from Paypal shortly.
Exit Shopping Cart
Ainsi que le dit Alexis Buisson dans un bel hommage: "Chacun d'entre nous, Français des Etats-Unis, a eu une réaction différente face à ces images crues, choquantes. De la colère, de l'indignation, du dégoût, de la peine. Mais avant tout, une profonde tristesse. Tristesse de voir un totem national touché aussi crument par la violence du terrorisme"
Un atteinte a la liberte intolerable et a la democratie, 
Un océan nous sépare de la France, mais nous vous invitons donc à rappeler autour de vous qu' « aux Etats-Unis, je suis Charlie aussi » .
Le President Barack Obama a effectué jeudi soir une visite surprise à l'ambassade de France à Washington pour signer le livre de condoléances en hommage aux victimes de la tuerie qui a décimé l'hebdomadaire satirique français.
"Au nom de tous les Américains, je fais part aux Français de notre solidarité après cette terrible attaque terroriste à Paris", a-t-il écrit. "En tant qu'alliés à travers les siècles, nous sommes unis avec nos frères français pour nous assurer que justice soit faite", a-t-il ajouté. "Nous avançons ensemble, convaincus que la terreur ne vaincra pas la liberté et les idéaux qui sont les nôtres, les idéaux que illuminent le monde. Vive la France!".
"C'est un geste très, très fort, exceptionnel"
Des rassemblements ont eu lieu et continuent d'avoir lieu aux USA pour rendre hommage et pour s'indigner contre cette atteinte a la liberte d'expression.
Pour ceux qui sont a Charlotte en Caroline du Nord; voici un message recu du consulat de France:
Je Suis Charlie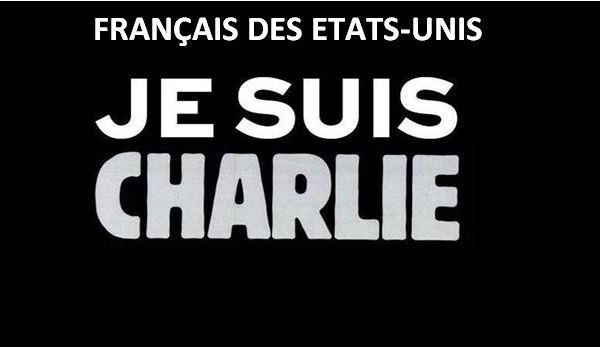 Silent Rally in Charlotte, NC - Freedom Park
Friday, January 9th 2015
5pm
In the aftermath of today's tragedy, the Francophone & Francophile population of Charlotte will unite and express their solidarity with the victims. This silent rally will unfold with solemnity and dignity.
When: Friday, January 9th, 2015 at 5pm
Venue : Amphitheater - Freedom Park
Suite aux évènements tragiques survenus aujourd'hui, les francophones de Charlotte s'unissent pour exprimer leur solidarité avec les victimes. Cette marche silencieuse se déroulera dans la solennité et la dignité.
Lieu de rencontre : Amphitheatre de Freedom Park. 5.00.
Date: Vendredi 9 janvier 2015
Des rassemblements continuent dans tous les Etats-Unis. Voici une liste que nous tenterons de mettre a jour le plus souvent possible:
Dimanche 11 janvier
Los Angeles : 12H30 Sur les marches de City Hall (Downtown), en présence de Frédéric Lefebvre
Chicago : 15H00 Daley Plaza, 50 W. Washington St
Las Vegas : 10H00 Devant le Casino Paris pour se terminer au pied de la statue de la liberté
Boston : 12h00 Au Parkman Bandstand / Boston Common
San Francisco : 14h00 Hôtel de Ville
Houston : 17H00 au Sam Houston Park (downtown)
Atlanta : 15H00-17H00 à l'angle de la 12th et de Piedmont Park
Washington, D.C. : A partir de 14H00 entre le Newseum (point de départ – 555 Pennsylvania Ave NW) et le National Law Enforcement Officers Memorial (point d'arrivée - East Street between 4th and 5th Streets)
Denver : 11h Civic Center Park, devant le Capitol du Colorado
Raleigh : 12h Moore Square, Downtown Raleigh
Royal Oak, Michigan : 15h à la fontaine de Royal Oak
Détroit : 15h à Royal Oak près de la statue en centre ville
Nashville : 09H00 PUBLIC SQUARE
San Diego : 13H00 parc Balboa dans le village international
Miami : 17H00 Bayfront Park
CANADA – Dimanche 11 janvier
Québec : 11h00 Point de départ devant l'Assemblée Nationale de Québec au 1045, rue des Parlementaires, Québec G1A 1A3 pour se diriger au Consulat de France sur la rue Saint-Louis à Québec en passant par la rue St Jean
Montréal : 11H00 Place des Arts
Vancouver : 12H00 Robson Square, 800 Robson Street
Ottawa : 15h00 Parc de la confédération
Calgary : 14H00 City Hall (800 mac led trail southeast)
Toronto : 14H00 Nathan Phillips Square – Toronto City Hall, 100 Queen West
Halifax : 13H00 Grand Parade Square au Centre ville
Edmonton : 18h30 place Churchill
ÉVÈNEMENTS PASSÉS
Mercredi 7 Janvier
New-York : 19H00 : Union Square
Washington : 19H00 : Newseum.
Chicago : 18H30 : Alliance Française de Chicago, 810 N Dearborn St
Houston : 18H00 : Residence du Consul, qui est situee: 1904 Kirby Drive
San Francisco : 19H00 : Consulat 88 Kearny Street #600
Boston : 18H00 : Consulat de France
Los Angeles : 18h00 : Figaro Café 1802 North Vermont Avenue
Seattle : 19h00 Consulat, 2200 Alaskan Way 490
Atlanta : 19h00 Centennial Park
Jeudi 8 Janvier
Atlanta : 17h00 Bistro Anis
Miami : 17h00 Bayfront Park en face du 200 Biscayne Boulevard
CANADA :
Mercredi 7 Janvier
Montréal
· 17H00 : Mairie de Montréal en présence du Consul général Bruno Clerc et Denis Coderre
· 18H30 : Consulat de France au 1501 McGill
· 19H00 : Union Française, en présence du Consul général Bruno Clerc, organisé par le journal L'Outarde Libérée
Québec : 18h00 : Consulat Général de France 25 rue Saint-Louis à Québec
Toronto : 18H00 : Consulat de France à Toronto, Yonge et Bloor.
Vancouver : 18H00 : Art Gallery
Calgary : 18H30 : City Hall
Winnipeg : 17h esplanade Louis Riel
Categories: USA FRANCE
/