Shopping Cart
Your Cart is Empty
There was an error with PayPal
Click here to try again
Thank you for your business!
You should be receiving an order confirmation from Paypal shortly.
Exit Shopping Cart
Si vous avez ou prévoyez de postuler pour un visa E (Investisseur) ou L (Filiale), sachez que votre époux(se) sera enregistré(e) sous un statut « dépendent » de votre visa. Une fois que l'époux(se) est physiquement présent(e) aux Etats-Unis avec un statut dépendant E ou L, il/elle pourra postuler pour l'obtention de la carte EAD, son permis de travail aux Etats-Unis.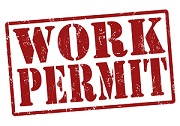 Qu'est-ce que la carte EAD ?
La carte EAD (Employment Authorization Document) délivrée par l'USCIS (United States Citizenship and Immigration Services) permet à son porteur de travailler légalement aux Etats-Unis dans n'importe quel secteur d'activité. Le porteur de la carte n'est donc pas limité quant au choix de l'employeur contrairement par exemple a un visa H1-B qui implique de travailler pour l'employeur qui vous a sponsorisé. La carte EAD permet également au porteur d'être auto-employé ou de travailler en « freelance » ou d'ouvrir sa propre société pour avoir une structure plus protectrice au niveau de la responsabilité juridique.
Qui peut demander un permis de travail ?
Peuvent postuler pour la carte EAD l'époux (mariage civil officiel) d'un individu détenant un visa E-1, E-2, E-3, L-1A ou L-1B. Les enfants résultant d'un mariage ne sont pas autorisés à demander un permis de travail même s'ils sont majeurs.
La question du Pacs, du concubinage
Malheureusement, l'immigration américaine ne reconnait pas ces types d'alliances conjugales comme valides pour l'obtention de la carte EAD. Il est nécessaire d'être marié à une personne du sexe opposé ou du même sexe et présenter le certificat de mariage lors de la demande de la carte EAD.
Comment appliquer ?
Pour obtenir la carte EAD, le formulaire I-765 doit être rempli et être appuyé par les documents suivants: frais d'inscription, photos d'identité, preuve du statut martial (par exemple le certificat de mariage en anglais ou traduit en anglais par une société agréée).
L'époux doit être physiquement présent aux Etats-Unis pour pouvoir prétendre acquérir cette carte.
L'appel à un avocat est-il nécessaire ?
Non. Il suffit de suivre précisément les instructions du formulaire I-765. Cependant, certaines entreprises se chargent d'aider à la préparation et au dépôt du formulaire I-765. Si vous n'êtes pas certains de votre cas, contactez les ressources humaines de votre entreprises ou un avocat.
Mesures de précaution
Si votre époux(se) remplit le formulaire I-765 lui-même (sans l'aide d'un avocat), il ou elle doit être certain(e) de faire des photocopies de tous les documents et d'envoyer les documents avec un système de courrier traçable (FedEx, UPS ou US Postal Service Express Mail).
Durée de validité
La durée de validité de la carte EAD dépend de la durée de validité du visa principal (le visa travail E ou L) car l'époux(se) est considéré(e) comme dépendant du porteur principal du visa.
Délai d'obtention
Le délai d'obtention pour une demande correctement soumise est de 10 à 14 semaines.
Si ce délai est dépassé, le postulant peut demander un rendez-vous « InfoPass » et se présenter au bureau d'immigration le plus proche (USCIS) de sa résidence pour demander un rapport de procédure.
Lors de ce rendez-vous, l'époux expliquera le retard dans l'obtention de sa carte EAD. L'agent d'immigration de l'USCIS contactera le centre de distribution de la carte EAD pour demander d'accélérer le traitement de la carte.
Informations manquantes ou formulaire mal rempli : RFE
La plupart du temps, des informations manquantes ou mal remplies ne se concluent pas par rejet de la demande. En revanche, l'USCIS délivrera une demande de preuves additionnelles (Request for Further Evidence) en détaillant les informations manquantes. Il y aura une date limite que votre époux(e) respectera. Si la réponse n'est pas communiquée à temps, ou si les réponses fournies sont jugées insatisfaisantes, la candidature sera refusée. Cependant, si une candidature est refusée, votre époux sera autorisé à soumettre une nouvelle demande.
Si l'USCIS délivre une RFE, le délai de 10 à 14 semaines sera stoppé et ne sera réenclenché seulement lorsque les informations manquantes auront été communiquées. Ne demandez pas un rendez-vous « InfoPass » après l'écoulement du délai classique si vous avez reçu un RFE, le délai de procédure sera naturellement retardé.
Demande de renouvellement de la carte EAD
La demande de prolongation doit être faire 120 jours (ou 4 mois) avant l'expiration de la carte EAD. Ce délai doit impérativement être respecté pour deux raisons particulières:
• Une fois que la carte EAD sera expirée, votre époux(se) n'aura plus la permission de travailler sur le sol américain. Cela signifie que son employeur devra soit mettre un terme à son contrat de travail, soit cesser de lui verser son salaire jusqu'à ce que la nouvelle carte EAD lui soit délivrée.
• Si votre époux(e) dépose une demande de prolongation en respectant le délai des 120 jours et que le dossier est renvoyé avec un RFE, votre conjoint aura toujours la possibilité de répondre rapidement et d'obtenir le renouvellement de carte à temps. Ainsi, la nouvelle carte EAD sera obtenue avant l'expiration de la carte actuelle.
Il est important de savoir que toute demande soumise avant le délai de 120 jours sera automatiquement retournée avec la mention « demande prématurée ».
Peut-on accélérer la procédure ?
Il n'y a aucune possibilité d'accélérer la procédure, que ce soit en payant des frais supplémentaires ou autres. La manière la plus sûre est de déposer une demande 4 mois avant l'expiration de l'ancienne carte EAD. L'USCIS peut éventuellement procéder à une demande accélérée après examen du dossier et seulement dans de très rares circonstances.
Le conjoint peut-il travailler en présentant un reçu montrant que la demande est en cours de procédure ?
Non. Seulement l'originale de la carte EAD est valable. L'employeur engage sa responsabilité si le conjoint continue de travailler après la date d'expiration de la carte EAD et avant que la réception de la nouvelle carte.
Categories: None
/